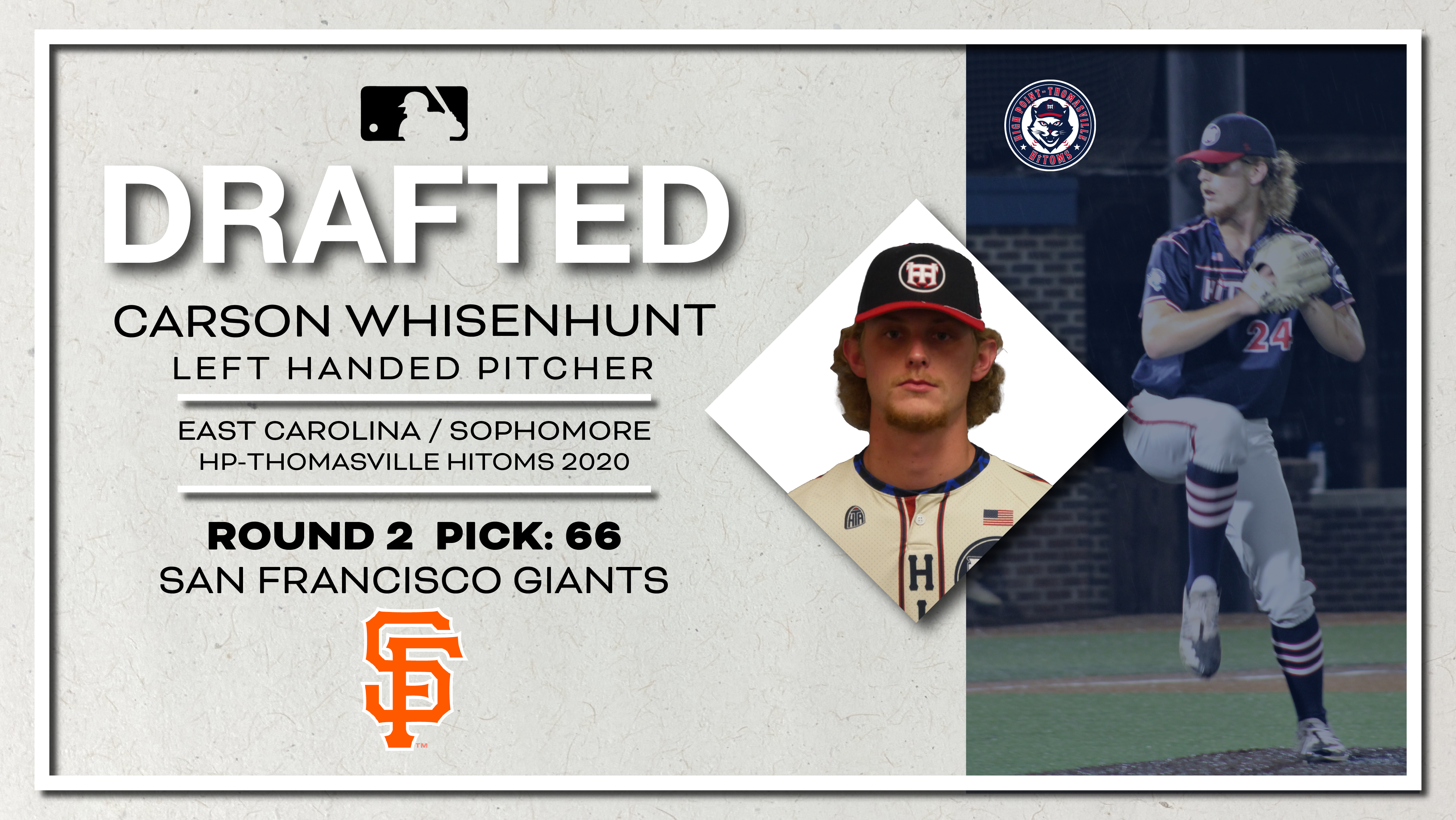 The Coastal Plain League saw another 22 of its players get taken between rounds 2 through 10 of the 2022 Major League Baseball Draft. Carson Whisenhunt (East Carolina/High Point-Thomasville HiToms, 2020) and Tanner Schobel (Virginia Tech/Peninsula, 2020) started things off going number 66 and 68 respectively.
Whisenhunt threw six innings across five appearances for the HiToms in 2020. He surrendered six runs – three earned – on eight hits, walked six and struck out 10. The freshman lefty finished with a 4.50 ERA. Meanwhile, Schobel batted .462 in three games for the Pilots the same summer. He had one home run, a pair of runs and RBIs, and stole one bag.
A complete list of CPL players taken between Rounds 2-10 is below. Stay tuned to the CPL's website, www.coastalplain.com and social media @CPLBaseball for updates on the 2022 MLB Draft as it finishes on Tuesday.
About Coastal Plain League:
The Coastal Plain League, brought to you by FloSports, is the nation's premier summer collegiate baseball league. Now in its 26th season in 2022, the CPL features 14 franchises playing in Georgia, North Carolina, South Carolina and Virginia. To date, the CPL has had over 1,700 alumni drafted and 157 alums make their Major League debut – including 2017 ALCS MVP, 2017 World Series champion, 2011 AL MVP and Cy Young award winner Justin Verlander, as well as 2017 NLCS MVP Chris Taylor. For more information on the Coastal Plain League, please visit the league website at www.coastalplain.com, and be sure to follow us on Facebook, Twitter, Instagram and TikTok @CPLBaseball.
Coastal Plain League Alumni Drafted In 2022 Major League Draft  – Rounds 2-10
Round
Overall
Player
College/University
MLB Team Drafted By
CPL Team(s)
2
66
Carson Whisenhunt
East Carolina
San Francisco
HP-Thomasville '20
CB-B
68
Tanner Schobel
Virginia Tech
Minnesota
Peninsula '20
4
135
Nick Biddison
Virginia Tech
Los Angeles (NL)
Peninsula '20
5
145
Hunter Patteson
Central Florida
Kansas City
Peninsula '20
5
156
Reid VanScoter
Coastal Carolina
Seattle
Martinsville '20
5
163
Nolan DeVos
Davidson
Houston
Wilson '21
6
186
Josh Hood
NC State
Seattle
Asheboro '19 / Macon '20 / Holly Springs '21
6
189
Alex Hoppe
UNC Greensboro
Boston
HP-Thomasville '20
6
193
Collin Price
Mercer
Houston
Macon '20
7
205
Mack Anglin
Clemson
Kansas City
Lexington County '20
7
216
Hogan Windish
UNC Greensboro
Seattle
HP-Thomasville '20, '21
8
229
Matt Brosky
Youngstown State
Texas
Martinsville '22
8
236
Davis Palermo
North Carolina
Colorado
Holly Springs '21
8
237
Jake Miller
Valparaiso
Detroit
Peninsula '22
8
246
Tatem Levins
Pittsburgh
Seattle
Lexington County '20
8
252
Nate Peterson
Illinois-Chicago
Milwaukee
Savannah '19
9
260
Mike Walsh
Yale
Pittsburgh
Holly Springs '21
9
271
Austin Peterson
Connecticut
Cleveland
Peninsula '20
10
293
Brody McCullough
Wingate
Chicago (NL)
HP-Thomasville '20
10
306
Bill Knight
Mercer
Seattle
Savannah '20
10
309
Isaac Coffey
Oral Roberts
Boston
Holly Springs '21
10
316
John Michael Bertrand
Notre Dame
San Francisco
Macon '18