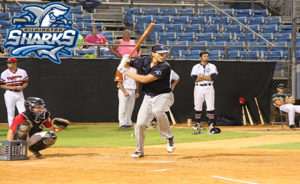 FAYETTEVILLE, N.C. – Alec Bohm of the Wilmington Sharks, an East Division All-Star, took home the 2016 CPL All-Star Home Run Derby title on July 10 in Fayetteville, N.C., earning the win over Dillon Stewart of the Holly Springs Salamanders who also made it to the Championship round.
The format was different from years past, adopting the MLB Home Run Derby strategy form a year ago in which players get four minutes to hit as many home runs as possible in each round. With a representative from all 16 teams hitting in round one alone the players combined for an impressive 113 home runs.
"I just went out there and took hard swings each time," said Bohm following his win. "I wanted to pace myself and put a good swing on it every time."
Bohm did just that as the rising sophomore at Wichita State crushed 12 home runs in the final round alone to beat Stewart who had 11 in a tight race. Fitting as the legend goes Bohm showed up in Wilmington and caught a ride straight to the stadium, without speaking to anyone he stepped on the field and mashed nine home runs to make a strong impression on all of his new teammates and coaches.
The rising sophomore at Wichita State was presented a custom Tucci Lumber bat by Coastal Plain League CEO and Owner Jerry Petitt.
Representing the East alongside Bohm and Stewart was Trey Hair (Edenton / Evansville), Hunter Dolshun (Fayetteville / Maryland-Baltimore County), Christian Campbell (Morehead City / Rutgers), Darian Carpenter (Peninsula / Virginia Commonwealth), Ryan Cox (Petersburg / Kutztown), and Cameron Balego (Wilson / Mercyhurst.)
In the West it was T.J. Nichting (Asheboro / Charlotte), Zach Files (Florence / Florida International), Adan Ordonez (Forest City / North Carolina A&T), Matt Simmons (Gastonia / Gardner-Webb), Zach Almond (HP-Thomasville / Catawba), Brett Auckland (Lexington County / Presbyterian), Colin Fleischer (Martinsville / Virginia Military Institute) and Jameson Hannah (Savannah / Dallas Baptist.)
The Home Run Derby was preceded by an All-Star Fan Fest highlighted by wrestling down the right-field line and players signing autographs before hitting the field. Tomorrow the East and West All-Stars will face-off in the 18th annual CPL All-Star game set to begin at 7:05 p.m. The game will be broadcast live on the Time Warner SportsChannel and streamed live online at www.coastalplain.com.