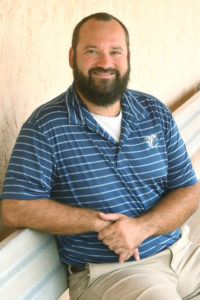 The Coastal Plain League announced today that Wilmington Sharks General Manager Allan Lusk was selected as its Executive of the Year following the 2022 season. This was Lusk's second year with the Sharks.
In 2022, Wilmington witnessed new highs including increased sponsorship sales, group sales and season tickets as they went on to feature seven sellouts and 10 additional games of over 80% capacity. Lusk captained the club in creating an engaging schedule of special theme and appreciation nights for Sharks fans, including Shark Awareness Day (in collaboration with the NC Fort Fisher Aquarium), Mental Health Awareness Day, and Christmas in July that provided lots of toys for a local children's hospital. The Sharks also partnered with four new local breweries to offer fans an updated list of options at The Shark Tank.
"Allan is very deserving of this award," said Justin Sellers, COO/Commissioner of the Coastal Plain League. "Allan has been a staple in the Wilmington community since arrive a couple of years ago and worked especially hard in seeing the Sharks to a successful 2022 campaign. He has a strong work ethic and goes the extra mile to try and help others around him succeed."
Speaking of others, one of the most important aspects of his job has been that of the team's internship program each summer. Lusk finds it to be a rewarding experience to mentor interns who are looking to begin their career path in the sports industry. At the end of the 2022 summer, eight of the Sharks interns were offered a full-time or part-time position in a collegiate athletic department or an opportunity to further their education in graduate school.
"I am extremely honored and excited to win this award," said Lusk. "It is humbling to be included on the list of great names that have won this award before me. It wouldn't have been possible without the support of the other great executives in this league. Most importantly, I want to thank our staff, fans, partners, and all of the Sharks' community. The 2022 season was a special season in the Shark Tank for many reasons and this honor is a result of every single one of your efforts. You made all of the hard work and dedication worth it! The Wilmington Sharks are a special team with a special fan base and I hope this award will help solidify the Sharks as a pillar in the Wilmington community for many years to come."
Prior to joining the Sharks, Lusk spent nine years in Minor League Baseball, most recently with the Biloxi Shuckers, Double-A affiliate of the Milwaukee Brewers. He spent six years with the Shuckers while playing a key role in the development and creation of the new franchise and the opening of the Shuckers' new stadium, MGM Park. He also spent time with High-A Kinston (affiliate of the Cleveland Guardians), the Corpus Christi Hooks (Double-A affiliate of the Houston Astros), and the Bowling Green Hot Rods (Class A affiliate of the Tampa Bay Rays).
Lusk, a Raleigh, N.C., native, graduated from East Carolina University with a degree in Sports Studies and a minor in Business Administration. He also recently completed his Masters in Parks, Recreation, Tourism and Sport Management at N.C. State University at the beginning of the summer season. Following the completion of the CPL season, Lusk was recruited to join UNC Wilmington Athletics as their new Director of Ticket Operations.
"It is always bittersweet when these moments happen," continued Sellers. "The CPL is full of great people that help us grow and reach the level of success that we have. Sometimes there is a further calling and we are proud of the staff alumni base that we have, including those who have gone on to further their careers in collegiate and professional sports. Allan is no different and we wish him all the best in his new chapter!"
About Coastal Plain League:
The Coastal Plain League, brought to you by FloSports, is the nation's premier summer collegiate baseball league. The CPL is currently comprised of 13 franchises playing in Georgia, North Carolina, South Carolina, and Virginia. To date, the CPL has had nearly 1,750 alumni drafted and 159 alums make their Major League debut. Most notable alumni include Justin Verlander, Ryan Zimmerman, Kevin Youkilis, Chris Taylor, Mark Reynolds, Alec Bohm and NFL Super Bowl winner Russell Wilson. For more information on the Coastal Plain League, please visit the league website at www.coastalplain.com, and be sure to follow on Facebook, Twitter, Instagram and TikTok @CPLBaseball.