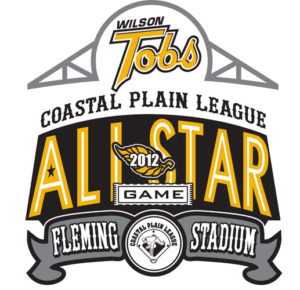 The Coastal Plain League announced today that the 2012 All-Star Game will be hosted by the Wilson Tobs on July 23, 2012 at Historic Fleming Stadium in Wilson, North Carolina.
The All-Star Game festivities will begin on Sunday, July 22, when the Tobs will host the All-Star Fan Fest, which will have several unique attractions, including the Home Run Derby. Fans will have the chance to meet both CPL All-Star teams during that time, and then look on as some of the best hitters in the league battle it out in the annual Home Run Derby.
"We are very happy to name the Wilson Tobs and the City of Wilson as hosts for our 2012 All-Star Game," said CPL President and Commissioner Pete Bock. "Greg Suire and his staff do a wonderful job we look forward to all that the Tobs have in store for our All-Stars and fans. We feel that the whole event will be a great success!"
On Monday, July 23, the All-Stars will be treated to a special luncheon before a busy afternoon and evening that includes Major League Scout Day activities and then the playing of the 2012 CPL All-Star Game.
This will be the third time the league's All-Star Game has made its way to Wilson. The Tobs played host in 2000, where the Southern All-Stars defeated the Northern All-Stars, 3-1; and again in 2005, where the National squad handed the American All-Stars a 5-3 defeat. Even more impressive is that a combined six Major Leaguers showed off their skills at those respective All-Star Games. Russ Adams (Toronto) and Don Kelly (Detroit) were All-Stars in 2000; while John Raynor (Miami), Michael Kohn (LA Angels), Michael McKenry (Pittsburgh) and Andy Dirks (Detroit) were all All-Stars in 2005.
For more information regarding the 2012 Coastal Plain League All-Star Game in Wilson, N.C., please contact the Tobs at (252) 291-8627. More information will be posted on the league website, www.coastalplain.com as the event draws closer.